"Even as Icarax gloats over his triumph, I am summoning every last bit of moisture from the air for hundreds of kios around. I am merging it together, bending it to my will, preparing to unleash all my elemental power in one single explosion of force. And I do ... and I hope to the Great Beings I never will again. A wall of water a thousand feet high crashes into the realm of Karzahni, shattering buildings, leveling everything and everyone in its path."
—Gali Nuva's narration, Toa Nuva Blog
Water

Element Information
Matoran Prefix
Ga-
Associated Color(s)
Primary: Blue
Secondary: Various shades of blue
Associated Location(s)
Ga-Metru, Ga-Wahi, Ga-Koro (all formerly)
Water was a main element in the Matoran Universe. This element was used by Toa and Turaga of Water and Ga-Matoran. Toa of Water had almost perfect control of the element. The element gave Ga-Matoran the ability to stay under water much longer than other Matoran. Turaga abilities were somewhere in the middle.
Creating water.
Manipulating water.
Absorbing water.
Sensing moisture in the air.
Setting a delayed reaction of water. - Toa Nuva-exclusive
Unleashing a Water Nova Blast. - Toa-exclusive
Resistance to corrosive waters.
"Possessing" water. - Element Lord-exclusive
Added agility underwater and greater lung capacity come with this power.
Combinations
Edit
These beings were wielders of the Element of Water: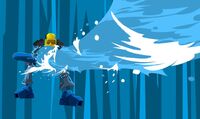 Locations
Edit
These locations were affiliated with the Element of Water:
The Cavern of Water
Ga-Metru - Formerly; now abandoned.
Ga-Wahi - Formerly; destroyed by the Bohrok.