Twin Propellers

Weapon Information
Power
Adapting
Function
Channeling Elemental energy, melee combat, flight
User(s)
Toa Nuva Pohatu
Status
In use
The Twin Propellers are Toa Pohatu's Toa Tools when he became a Phantoka. They are made of the finest Protosteel and could rotate to keep Pohatu flying. Up close, they were strong enough to shatter an enemy's armor, even a Makuta's. They are also used to channel Pohatu's elemental power over Stone.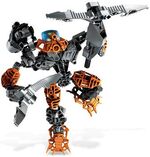 Set Information
Edit
The Twin Propellers are able to be rotated by spinning an axle piece that ran through the weapon.
The Twin Propellers are also able to be used as claws or drills by folding the blades.
Ad blocker interference detected!
Wikia is a free-to-use site that makes money from advertising. We have a modified experience for viewers using ad blockers

Wikia is not accessible if you've made further modifications. Remove the custom ad blocker rule(s) and the page will load as expected.