Takea

Species Information
Group
Rahi
Colors
Grey
Weapons
Teeth
Species Status
Unknown
Pronunciation
TAH-kay-AH



The Takea were a species of fierce shark-like predator Rahi. Takea were created by the Makuta species by combining various Viruses with liquid protodermis.
Takea sharks were used by Pridak as his army. Takea in the Matoran language meant "King of Sharks". They hated the Tarakava and attacked Matoran ships for fun. The Ga-Matoran Hahli once tracked down and chased a Takea in order to learn about speed, at the suggestion of Kai.
Pridak's Shark Tooth Blade was made by fusing ten thousand Takea shark teeth together.
Appearances
Edit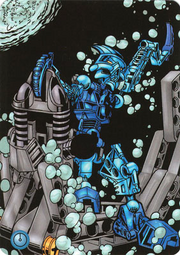 Ad blocker interference detected!
Wikia is a free-to-use site that makes money from advertising. We have a modified experience for viewers using ad blockers

Wikia is not accessible if you've made further modifications. Remove the custom ad blocker rule(s) and the page will load as expected.