Rhotuka Spinner Challenge

Online Game Information
Availability
Unavailable
Platform
Online, BIONICLE.com
Controls
Mouse

The Rhotuka Spinner Challenge was a game on the Kanoka Club on BIONICLE.com. It features the Toa Hordika and Visorak.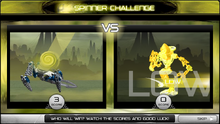 To start, the player chooses has three different attacks: Low, Medium, High. The player could choose six options in all. Once they were done, they had to set up their defense, which was done in the same way as the attack selection. The player then could go choose a random fight with anyone else that was also choosing a fight. Depending on each players options, one would win (i.e. Player One's attack is high, high, high, high, high, high, and Player Two's defense was the same, Player Two would be unharmed).
Characters
Edit
The Player could use Toa Vakama, Nokama, Whenua, Onewa, or Vohtarak, Boggarak, Roporak, or Oohnorak.
Matau, Nuju, Suukorak, and Keelerak were unaccessible to the Player originally, but, if the Player beat another Player who was playing as that character in the fight, they would then become unlocked.
The Rhotuka Spinner Challenge Game
Ad blocker interference detected!
Wikia is a free-to-use site that makes money from advertising. We have a modified experience for viewers using ad blockers

Wikia is not accessible if you've made further modifications. Remove the custom ad blocker rule(s) and the page will load as expected.