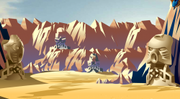 The Quarry was an area of six statues that resembled the Toa Mata's masks. One of the statues contained a secret passage leading to a Nui-Jaga nest, which was where Ahkmou got his infected Comet balls. The nest was subsequently destroyed by Takua and Toa Pohatu.
The Po-Matoran built the Quarry inside a canyon formation in the Desert. It was here that the Po-Matoran mined for stone to be used for carvings.
The Quarry was cleared by the reawakened Bohrok swarms, and obliterated when Mata Nui was awakened.
Ad blocker interference detected!
Wikia is a free-to-use site that makes money from advertising. We have a modified experience for viewers using ad blockers

Wikia is not accessible if you've made further modifications. Remove the custom ad blocker rule(s) and the page will load as expected.