Prepare for Battle

Online Game Information
Availability
Available
Platform
Computer
Controls
Arrow keys, spacebar
Prepare for Battle was an augmented reality game released on YTV.com that allows the player to control Mata Nui.
Gameplay
Edit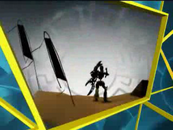 The game is initiated by activating a webcam, and showing it a printout of a marker provided on the site. Once the webcam clearly recognizes the marker, the main field will appear on screen. Depending on how the printout is shown to the webcam, the game can be seen and played from different perspectives or distances. After starting the game, the player is placed in control of Mata Nui, armed with a Thornax Launcher to fire at enemies.
Controls
Edit

Up - Aim
Space - Fire Thornax Launcher
Left - Ninety degree rotation left
Right - Ninety degree rotation right
Down - One hundred eighty degree rotation
External links
Edit
Ad blocker interference detected!
Wikia is a free-to-use site that makes money from advertising. We have a modified experience for viewers using ad blockers

Wikia is not accessible if you've made further modifications. Remove the custom ad blocker rule(s) and the page will load as expected.