Somebody Isn't Doing Their Job

This article or section of our Archives is in need of improvement. Please help the Onu-Matoran to add information and make this exhibit worthy of The BIONICLE Wiki. If, however, this article has already been improved satisfactorily, please remove this template.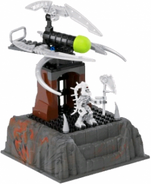 The Piraka Outpost was a type of guarding post that guarded parts of Mount Valmai and the Piraka Stronghold. There were twelve of these outposts, all consisting of a small building and an Outpost Nektann.
Background
Edit
One of these was attacked by Kongu, Garan, Nuparu and Velika. The Nektann on the machine rebuilt itself, however, forcing them to move on. The Piraka Outposts were presumeably destroyed when Voya Nui returned to its original position.
Set Information
Edit
Piraka Outpost was released in 2006.
Piraka Outpost's set number was 8892.
Piraka Outpost had 211 pieces.
Ad blocker interference detected!
Wikia is a free-to-use site that makes money from advertising. We have a modified experience for viewers using ad blockers

Wikia is not accessible if you've made further modifications. Remove the custom ad blocker rule(s) and the page will load as expected.