Le-Wahi
Talk

0
1,779pages on
this wiki
Le-Wahi

Location Information
Primary Residents
None
Former Residents
Le-Matoran, Rahi
Location
Le-Wahi
Size
'
Makuta
{{{6}}}
Pronunciation
{{{7}}}

Le-Wahi was a jungle region of Mata Nui.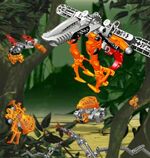 It was roamed by the Le-Matoran and diverse Rahi, specifically Nui Rama and Gukko. It was home to the Nui-Rama Hive. During the time of the Bohrok invasion, parts were burned in a forest fire by a swarm of Tahnok. Nuhvok-Kal was later defeated there. It was also home to Le-Kini and the Temple of Faith.
It was later destroyed by the Bohrok after the Toa Nuva awakened the Bahrag.