Lake Naho

Location Information
Primary Residents
'
Former Residents
Ga-Matoran, aquatic Rahi
Location
Ga-Wahi
Size
Unknown
Makuta
Teridax (formerly)
Pronunciation
None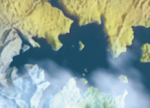 Lake Naho, sometimes called Naho Bay or Gali's Bay, was the body of water that made up most of Ga-Wahi. It was named after Toa Naho, a Toa of Water in the Toa Mangai team who was killed by the Dark Hunter "Eliminator". Lake Naho was not cleansed by the Bohrok, as it was part of the sea, but merged with the surrounding ocean when Mata Nui rose.
One of Metru Nui's sunholes was located here.
Ad blocker interference detected!
Wikia is a free-to-use site that makes money from advertising. We have a modified experience for viewers using ad blockers

Wikia is not accessible if you've made further modifications. Remove the custom ad blocker rule(s) and the page will load as expected.