Ice Axe

Weapon Information
Power
'
Function
Melee combat
User(s)
Strakk
Status
In Use
The Ice Axe was a weapon used by Strakk. It, like most other equipment on Bara Magna, had no elemental properties of its own and was Strakk's primary weapon for melee combat.
Set Information
Edit
The Ice Axe was released with Strakk in early 2009.
this is the only glatorian weapon where its movie version didn't start out with a different form.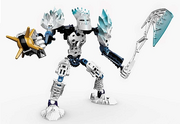 Ad blocker interference detected!
Wikia is a free-to-use site that makes money from advertising. We have a modified experience for viewers using ad blockers

Wikia is not accessible if you've made further modifications. Remove the custom ad blocker rule(s) and the page will load as expected.