Huai Snowball Sling (Game)

Online Game Information
Availability
Retired
Platform
PC
Controls
Mouse, Keyboard
Huai Snowball Sling was a mini-game released in 2002.
Gameplay
Edit
You control a red Matoran throwing snowballs at the opponents who are yellow, green, and blue Matoran. The game is played on a diamond-shaped ice field with several immobile rocks acting as obstacles. The more times a Matoran is struck with a snowball, the more snow builds up on them, eventually encasing them in a large snowball, subsequently eliminating them from the game. When only one Matoran is left, the game ends and a screen shows the winner and each player's scores.
This game was taken off of BIONICLE.com in 2003, but can still be found in BIONICLE: Quest for the Toa and the Interactive Demo CD.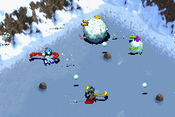 Controls
Edit
Mouse - Begin game
Space - Throw a snowball forward, slide backward
Left/Right/Up/Down Arrows - Face respective direction
The game can be unlocked by entering "V33673" as the name of one of the saved files in BIONICLE: Quest for the Toa.
Appearances
Edit
External links
Edit
Ad blocker interference detected!
Wikia is a free-to-use site that makes money from advertising. We have a modified experience for viewers using ad blockers

Wikia is not accessible if you've made further modifications. Remove the custom ad blocker rule(s) and the page will load as expected.