Harakeke Plant

Item Information
Primary User(s)
Ga-Matoran
Primary Location
Ga-Wahi
Functionalities
Material for Flax
The Harakeke Plant was a type of plant which grew mainly in Ga-Wahi, along the beach, and was also found growing along the lily pads that hold up the seaweed huts that the Ga-Matoran live in. It was commonly used to make a type of flax, that many people needed around the island of Mata Nui.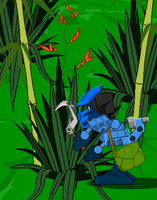 Harakeke plants, along with many Cowrie Shells, are the main ingredients for Flax, which is needed everywhere on Mata Nui.
Flax-making process
Edit
As an assistant Flax Maker, Hahli cut down Harakeke plants, collected cowrie shells and took them to Amaya, who then made the flax. To make flax, Amaya would rub the cowrie shells on Harakeke leaves that had been placed on a loom, thus exposing the fibers that could be bundled into flax. Hahli was then told who to deliver it to.
Harakeke plant is one of the main resources you need to collect in the MNOG 2.
Harakeke plant is a Maori name for a plant.
Ad blocker interference detected!
Wikia is a free-to-use site that makes money from advertising. We have a modified experience for viewers using ad blockers

Wikia is not accessible if you've made further modifications. Remove the custom ad blocker rule(s) and the page will load as expected.