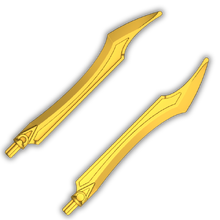 The Golden Swords were two weapons wielded by Tahu Master of Fire.
Functionality
Edit
The Golden Swords were used as side arms for Tahu when he was lava boarding, or if he had lost his Fire Blades.
Tahu used the Golden Swords as side arms to battle the Lord of Skull Spiders when the latter had knocked away the former's Fire Blades.
Set Information
Edit
The Golden Swords came with Tahu, and each was 1 piece.
Ad blocker interference detected!
Wikia is a free-to-use site that makes money from advertising. We have a modified experience for viewers using ad blockers

Wikia is not accessible if you've made further modifications. Remove the custom ad blocker rule(s) and the page will load as expected.