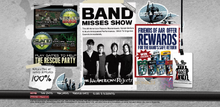 Free the Band was a promotional site released in 2006, which mainly featured the real-life band "All-American Rejects" along with the 2006 BIONICLE characters.
The "All-American Rejects" were supposedly kidnapped by the Piraka. The site gave clues on how to find the band, in the form of videos, biographies on both the band and the Toa Inika, and games such as Island Investigation and Voya Nui Adventure. It also featured a sweepstakes contest, where the winner would have received various BIONICLE-themed products.
There were hidden downloads around the site, disguised as stains shaped like the Toa Inika's Kanohi.
External links
Edit
Ad blocker interference detected!
Wikia is a free-to-use site that makes money from advertising. We have a modified experience for viewers using ad blockers

Wikia is not accessible if you've made further modifications. Remove the custom ad blocker rule(s) and the page will load as expected.