Elemental Ice Blaster

Weapon Information
Power
Ice
Function
Ranged combat
User(s)
Izotor, Kopaka
Status
In use
The Elemental Ice Blaster was a frost-powered ranged weapon initially wielded by Izotor. Kopaka also used it and later acquired his own armor plated version.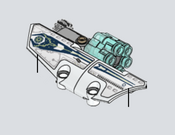 Functionality
Edit
The Elemental Ice Blaster was capable of freezing targets to the spot.
Ad blocker interference detected!
Wikia is a free-to-use site that makes money from advertising. We have a modified experience for viewers using ad blockers

Wikia is not accessible if you've made further modifications. Remove the custom ad blocker rule(s) and the page will load as expected.