Earth Claws
Talk

0
1,816pages on
this wiki
Earth Claws

Weapon Information
Power
Channeling Earth energy (Onua), allows Nuhvok Va to quickly burrow underground (Nuhvok Va)
User(s)
Onua, Nuhvok Va
Status
Transformed (Onua), no longer in use (Nuhvok Va)
The Earth Claws were weapons wielded by Toa Mata Onua. They helped him dig, pick up large boulders, etc. They were part of his hands, so he could not remove them. Onua could also channel his earth powers through them. The Earth claws became Quake Breakers after being transformed by Energized Protodermis.
Bohrok Va
Nuhvok Va have a pair of Claws that have a similar appearance of Onua's Earth Claws. They either used them to burrow shallow tunnels (as their weapons are not made for heavy digging) underground to escape any danger or for defensive. The Claws later became useless when the Nuhvok Va, the Bohrok queens, and the rest of the Bohrok swarm return to their slumber after cleansing Mata Nui (which was one of tasks that the Toa Nuva had to do to awaken the Great Spirit).
Set Information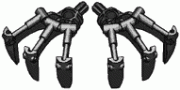 The Earth Claws were first included in the Onua Mata set 2001.
The pieces used for them were later included in many other sets including Piruk, Nui Rama, Nuhvok Va, Tarduk, etc.
They have been available in six colors: Orange, yellow-green, black, silver and white.
Trivia

In BIONICLE Heroes, the claws are Nuparu's default weapon. They fire out grenade-like blasts that explode after a few seconds, but can be detonated manually. They could be upgraded into Toa Whenua's Earthshock Drills.
A foam version of Onua's Earth Claws was released in 2003 and can be only found in certain Lego outlets (not stores) back then.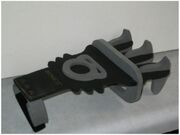 See Also