Command Toa Nuparu

Online Game Information
Availability
Available
Platform
Online, BIONICLE.com
Controls
Mouse
The Command Toa Nuparu game was the fifth Command The Toa Mahri game released on September 10, 2007.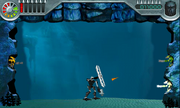 There are 6 levels, in which the player is Nuparu, using his shield to deflect blasts back at enemies. If they touch Nuparu, the life bar decreases. The game's objective is to deflect enemy shots until a bubble with a Cordak bullet falls and you collect it.
Beginning: Nuparu is looking around, when Maxilos then fires something at him. Nuparu responds to this by deflecting it back at the robot.
Winning: Nuparu deflects a black sphere at Maxilos, who is now controlled by Teridax. Nuparu then loads his blaster with his new bullet.
Losing: Nuparu is overwhelmed by the missiles and eventually finds himself laying on the ground. Maxilos shows up and shoots him in the chest, instantly killing him presumably.
Black bubbles: Shot by Barraki. Disintegrate after a while. They mainly bounce around, and are deflected when they hit the shield.
Squid: Shot by Barraki. Fired in a straight line. Deflected when they hit the shield, but disintegrate when they hit land.
Cordak bullet: Shot by Maxilos. Disintegrate when they hit the shield.
Scoring is based on:
The code to activate the Ignika is WSP. The code makes you intangible when you are about to get hit by a bullet.
Pressing 1,2,3, and 4 at the same time causes the game to say "cheater", and cheat mode to be activated.
1=Win Level
2=Go Back A Level
3=Regenerate Health
4=Activate The Ignika
5=Lose Game
Occasionally, the Cordak Bullet will be deflected.
External Link
Edit
Ad blocker interference detected!
Wikia is a free-to-use site that makes money from advertising. We have a modified experience for viewers using ad blockers

Wikia is not accessible if you've made further modifications. Remove the custom ad blocker rule(s) and the page will load as expected.