A Bohrok Va Kaita was a merge of three different Bohrok Va. No names have appeared in the storyline. None have appeared in the storyline, but it is assumed they exist.
Set Information
Edit
Two Bohrok Va Kaita have been released: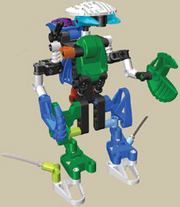 Ad blocker interference detected!
Wikia is a free-to-use site that makes money from advertising. We have a modified experience for viewers using ad blockers

Wikia is not accessible if you've made further modifications. Remove the custom ad blocker rule(s) and the page will load as expected.