BIONICLE: Rahi Beasts

Book Information
Author
Greg Farshtey and Jeff James
Series
Year published
2005
Number in series
{{{5}}}
Previous book
{{{6}}}
Current book
BIONICLE: Rahi Beasts
Next book
{{{7}}}
BIONICLE: Rahi Beasts
is a book by
Greg Farshtey
and Jeff James about various
Rahi
. It was published by Scholastic Inc. and was released on June 1, 2005. The book tells about some of the Rahi such as
Nui-Jaga
and, if known, their origin and abilities. The book also mentions several previously unknown Rahi such as
Fader Bulls
, created by fans. The first place Rahi, the
Tahtorak
, was featured in
Bionicle Adventures 8: Challenge of the Hordika
and on the cover of the book. At the bottom of each page is a quote from one of the six
Rahaga
. In the back of the book is the Appendix, which lists some Rahi which did not receive a page in the book.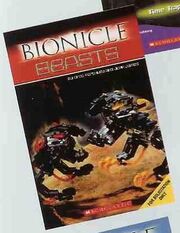 Featured Rahi
Edit
Ad blocker interference detected!
Wikia is a free-to-use site that makes money from advertising. We have a modified experience for viewers using ad blockers

Wikia is not accessible if you've made further modifications. Remove the custom ad blocker rule(s) and the page will load as expected.