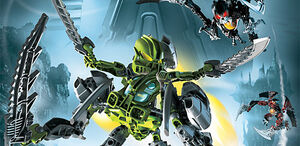 2008
was the eighth year of
BIONICLE
. It was set in
Karda Nui
and followed the struggles of the
Toa Nuva
and
Av-Matoran
against the invading
Makuta
and
Shadow Matoran
.
The BIONICLE Ignition series of comics and the BIONICLE Legends series of books concluded this year, with five comics (one of which was never finished, but released in script form online) and three books. The year also featured seven online story serials. In total, twenty-eight sets were released in 2008.
Somebody Isn't Doing Their Job

This article or section of our Archives is in need of improvement. Please help the Onu-Matoran to add information and make this exhibit worthy of The BIONICLE Wiki. If, however, this article has already been improved satisfactorily, please remove this template.
Media Released
Edit
Story Serials
Edit
Sets Released
Edit
Ad blocker interference detected!
Wikia is a free-to-use site that makes money from advertising. We have a modified experience for viewers using ad blockers

Wikia is not accessible if you've made further modifications. Remove the custom ad blocker rule(s) and the page will load as expected.